About Us
About Us
Michka Florist proudly serves the Laval area . We are family owned and operated. We are committed to providing the finest floral arrangements and gifts. Because our professional staff is dedicated to making your experience a pleasant one. That is why we always go to make your floral gift perfect.

Let Michka Florist be your first choice for flowers.

Michka Signed Charbonneau ... The story began with a certain Olivier Charbonneau, our ancestor who decided to settle in new France in 1659. He became a farmer in St-François. In his honor, we named a park and the new bridge of the 25. From farmer to farmer the culture flows in the blood of Charbonneau. Cléophas, our grandfather, market gardener of Ste-Dorothée gave birth to Philippe our horticultural father, who made us born in the paradise of plants and transmitted us this passion. Today, we grow plants for urban gardening.

Our speciality :

Garden side: Flowers, flowers and flowers ... We produce annuals and also offer: perennials, shrubs, trees, accessories and a lot of decorative elements to beautify your outdoor patio.

Florist side: Flowers, flowers and flowers ... .. Our florist staff designs custom floral arrangements for different occasions. Arrivals of fresh flowers from different countries, distinguishes our company for its choice and the quality of its products.

Michka Signed Charbonneau
Michka Fleuriste
97 Cleophas-Charbonneau H7X 0C4
Laval, QC H7X 0C4
Store Hours

Our shop is open from 9:00 am to 6:00 pm, Monday through Friday and from 9:00 am to 5:00 pm on Saturday and Sunday.

To help ensure that you will be able to help you during your holiday season, Thanksgiving Day, Christmas Day, New Year's Day, Valentine's Day, Easter, Administrative Professionals Week, Mother's Day, Memorial Day, Father's Day, Independence Day and Labor Day.

Our shop will always be closed on Christmas Day and New Year's Day.
Payment Options
We accept the following payment methods:
Visa
MasterCard
American Express
Pay by Phone
Areas Served
Laval, Boisbriand, Chomeday, Duvernay, Fabreville, Lachine, Laval Rapids, Laval on the Lake, Montreal, Pierrefonds, Viau Bridge, Rosemere, St-Eustache, Ste-Dorothee, Ste-Rose, Ste -Rose: CL, and Vimont.
We also deliver to the following facilities

Alfred Dallaire Yves Group

Alfred Dallarie Memoria

Alphi Residence For People

Guardian Angel Orientation

Apartments On The Shore

Armstrong-Rideau Funeral Home

Blais Real

Cedres

Good Hospitality Center

Ambulatory Hospital Center

Chartwell The Wellesley

Chartwell The residence cores

Chateau Dollard

Chsld Laval

Urgel Bourgie Garden Cemeteries

Health City Of Laval

Funeral complexes

Demeures Ste Croix Inc

Duvernay

Esterel Pointe-Claire

Integraction-Laval Foundation

Etienne Fireplace

Fireplace Vimont Pensn For Persns

Longpre Group

Habitation The Bel Age

Boise Houses

Houses La Roseraie

Board Accommodation

Hospital of the Cite-de-la-Sante

Jewish Hospital of Readaptation

Commemorative Garden Laurentien

Willow Garden

Lakeshore General Hos |

The Funeral Homes

The Funeral Homes Goye

The Manoir Soleil Residences

The Funeral Homes Guay Inc

Magnus Poirier

Cardinal Manor Inc

Chomedey Manor

Manoir De Laval

Ruisseau Manor

Manor Oasis

Manor Marc-Aurele Fortin

Manoir Notre Dame Du Sourire

Manoir St Laurent Inc

St-Martin Manor

Therese Casgrain Manor

Plots Of Happiness

Park Cemetery Maintenance

Fabre Pavilion

Pension Boulay Enr

Selection Network

Residence Begonias

Residence Boyer

Residence Des Aines L'Avant

Residence Du Bonheur

Residence Heritage

Family Residence Caron

Residence funeral Laval

Residence Johanne Methot

Residence L'Eden

Residence L'Espoir

Residence L'Oasis De Laval

Residence Le Renoir

Residence Les Marronniers

Residence Manoir De Casson

Residence Monaco

Residence Quatre Cent Inc

Residence King North

Residence Roquetins

Residence Steger

Rideau Funeral Home

Funeral Services Lacroix

Laval Real Estate Company

Urgel Bourgie

Urgel Bourgie Complex

Sun Heart Villa

Villa of Youth

Villa Les Tilleuls

Villa Ste Rose Inc

Villa Val Des Arbes
Specialty services
We specialize in the following services:
• Large inventory of fresh flowers
• Tropicals
• Plants
• European / dish gardens
• Contemporary and traditional arrangements
• High-style floral arrangements
• Silk arrangements
• Dried floral arrangements
• Weddings
• Funeral designs
• Extensive gift line
• Gourmet and fruit sneakers
• Gift sneakers
• Greeting cards
• Candles

Contact Information
If you have any questions, please contact us by e-mail at michka@bellnet.ca or call us directly at (800) 689-1597. We're always here to help you and make your flower-sending experience a pleasure.
Delivery Policy
delivery fee will be added to each order, for each address. (For deliveries outside our local delivery area, this fee may vary.)

Orders must be received before 4:00 pm in the container's time zone to ensure same-day delivery. Orders received after that time will be delivered the following day.

We will do our best to make deliveries at specific times of the day, but we can not guarantee it.

Delivery of orders to rural routes or cemeteries can not be guaranteed.

We will be happy to accept your international orders if you call our shop directly. We are unable to accept international orders over the Internet.
.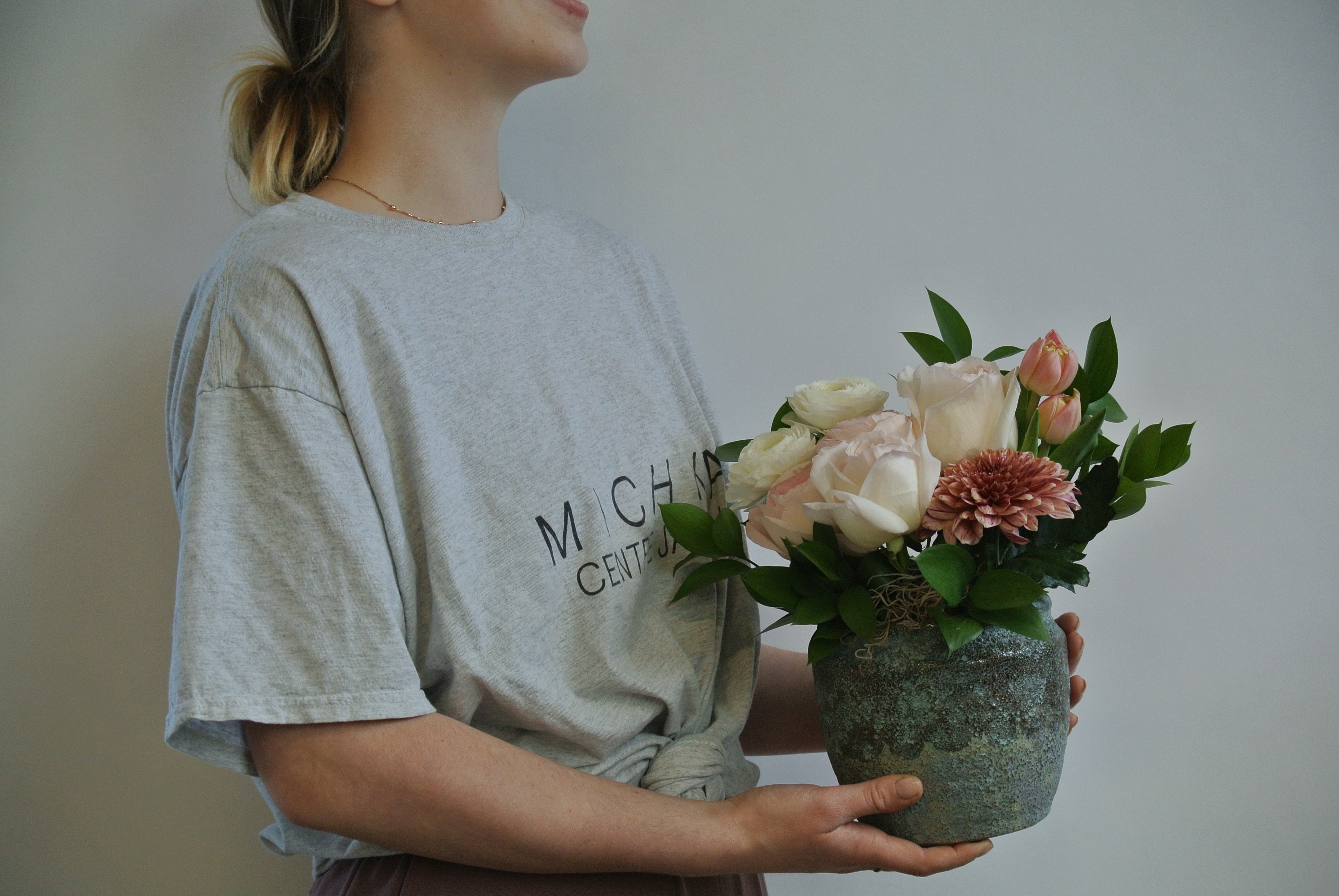 Substitution Policy
Occasionally, substitutions may be necessary to create your bouquet due to the availability of certain flowers in various parts of the country. Care is taken to maintain the style, theme and color scheme of the arrangement, using flowers of equal value. Additionally, the substitution of certain keepsake items may be necessary due to increased demand, especially during major holidays. In single-flower arrangements, such as an all rose bouquet, or orchids, we will make every attempt to match the flower type, but may substitute with another color.
Privacy Policy
This privacy statement has been created in order to demonstrate our firm commitment to protecting customer privacy.

Information We Collect

If you open an account on our site or make a purchase, we need your contact information including your name, e-mail address and mailing address to complete your transaction.

When you visit our website, we also collect some basic information that does not identify individual users. We use this information to determine our users demographics and interests, so that we can better understand and serve our users.

"Cookies"

Cookies are small files which store certain information about your activity on the website and are stored on your computers hard drive. Our cookies do not contain any personally identifying information. We use cookies to let us know that you are a prior customer, so that you dont have to reenter information you gave us on your prior visits. Most web browsers automatically accept cookies, but most allow you to instruct your browser to prevent the use of cookies. However, if you disable cookies, you will not be able to use certain features of this website.

Our Use and Disclosure of Your Information

When opening an account or making a purchase, you have an opportunity to opt-in or opt-out from receiving emails from us. If you opt-in to receive information from us, we may use your purchase history, contact information and other registration information to provide you with more relevant information and email content. We may send emails to our users regarding changes in our services or other information we believe will be of interest to our users. If you prefer not to receive these emails, you can send us an email with the subject line no emails or reply to our email with the subject line no emails.

If you send us personal correspondence, such as emails or letters, or if other users or third parties send us correspondence about your activities on our site, we may collect such information. We may use that information and other information that we obtain from your use of our site to resolve disputes, troubleshoot problems and enforce our agreement for Terms of Use.

We may share aggregate statistics about our sales, traffic patterns and related site information with other businesses, but these statistics will include no personally identifying information.

We may share your information with Teleflora and other reputable vendors for the purpose of sending out special offers via email and/ or in connection with the services provided by our site such as the delivery of flowers. Your information will not be shared for any other purpose and will be kept secured.

We cannot ensure that all of your private communications and other personally identifiable information will never be disclosed in ways not otherwise described in this Privacy Statement. For example, we may be required to disclose information to the government or third parties under certain circumstances, or third parties may unlawfully intercept or access transmissions or private communications. We can (and you authorize us to) disclose any information about you to law enforcement or other government officials as we, in our sole discretion, believe necessary or appropriate in connection with an investigation of fraud, intellectual property infringements, or other activity that may be illegal or may expose us to legal liability.

Security

This site has security measures in place to protect the loss, misuse and alteration of the information under our control.

All user credit card information is securely communicated using secure socket layer (SSL) software, which is the industry standard and among the best software available for secure commerce transactions.

All user information stored on our server is stored in an encrypted format. Notwithstanding these efforts, we caution you that perfect security does not exist on the Internet.

Linked Sites

If this site contains any links to other websites, we are not responsible for the privacy practices or the content of such websites.

Changes to Privacy Statement; Consent

We may update this Privacy Statement from time to time. You should check this page periodically for changes. By using our site, you consent to the collection and use of your information by us as described in this Privacy Statement.

Questions and Comments

We welcome your questions and comments about this Privacy Statement.