About Us
A PROPOS DE NOUS
Fleuriste Michka sert fièrement la région de Laval. Nous sommes une entreprise familiale et exploitée. Nous nous engageons à fournir les meilleurs arrangements floraux et cadeaux. Parce que notre personnel professionnel se consacre à rendre votre expérience agréable. C'est pourquoi nous faisons toujours en sorte que votre cadeau floral soit parfait.
Laissez Michka Florist être votre premier choix pour les fleurs.
Michka Signé Charbonneau ... L'histoire commence avec un certain Olivier Charbonneau, notre ancêtre qui décide de s'installer en Nouvelle-France en 1659. Il devient agriculteur à St-François. En son honneur, nous avons nommé un parc et le nouveau pont du 25. De fermier à fermier la culture coule dans le sang de Charbonneau. Cléophas, notre grand-père, maraîcher de Ste-Dorothée a donné naissance à Philippe notre père horticole, qui nous a fait naître au paradis des plantes et nous a transmis cette passion. Aujourd'hui, nous cultivons des plantes pour le jardinage urbain .
Notre spécialité:
Côté jardin: Fleurs, fleurs et fleurs ... Nous produisons des annuelles et proposons également: des vivaces, des arbustes, des arbres, des accessoires et de nombreux éléments décoratifs pour embellir votre terrasse extérieure.
Côté fleuriste: Fleurs, fleurs et fleurs ... .. Notre équipe fleuriste conçoit des compositions florales personnalisées pour différentes occasions. Les arrivées de fleurs fraîches de différents pays, distinguent notre entreprise pour son choix et la qualité de ses produits.
Michka Signé Charbonneau
Michka Florist proudly serves the Laval area . We are family owned and operated. We are committed to providing the finest floral arrangements and gifts. Because our professional staff is dedicated to making your experience a pleasant one. That is why we always go to make your floral gift perfect.

Let Michka Florist be your first choice for flowers.

Michka Signed Charbonneau ... The story began with a certain Olivier Charbonneau, our ancestor who decided to settle in new France in 1659. He became a farmer in St-François. In his honor, we named a park and the new bridge of the 25. From farmer to farmer the culture flows in the blood of Charbonneau. Cléophas, our grandfather, market gardener of Ste-Dorothée gave birth to Philippe our horticultural father, who made us born in the paradise of plants and transmitted us this passion. Today, we grow plants for urban gardening.

Our speciality :

Garden side: Flowers, flowers and flowers ... We produce annuals and also offer: perennials, shrubs, trees, accessories and a lot of decorative elements to beautify your outdoor patio.

Florist side: Flowers, flowers and flowers ... .. Our florist staff designs custom floral arrangements for different occasions. Arrivals of fresh flowers from different countries, distinguishes our company for its choice and the quality of its products.

Michka Signed Charbonneau
Michka Fleuriste
97 Cleophas-Charbonneau H7X 0C4
Laval,QC H7X 0C4
Store Hours

Notre boutique est ouverte de 9h00 à 18h00 du lundi au vendredi et de 9h00 à 17h00 le samedi et le dimanche. amp;

Pour vous assurer que vous serez en mesure de vous aider pendant les fêtes de fin d'année, le jour de Thanksgiving, le jour de Noël, le jour de l'an, la Saint-Valentin, Pâques, la semaine des administrateurs, la fête des mères, le jour du Souvenir, la fête des pères, le jour de l'indépendance et le travail Jour. &

Notre boutique sera toujours fermée le jour de Noël et le jour de l'An.
amp; ;

Our shop is open from 9:00 am to 6:00 pm, Monday through Friday and from 9:00 am to 5:00 pm on Saturday and Sunday.

To help ensure that you will be able to help you during your holiday season, Thanksgiving Day, Christmas Day, New Year's Day, Valentine's Day, Easter, Administrative Professionals Week, Mother's Day, Memorial Day, Father's Day, Independence Day and Labor Day.

Our shop will always be closed on Christmas Day and New Year's Day.
Payment Options
We accept the following payment methods:
Visa
MasterCard
American Express
Pay by Phone
Areas Served
Laval, Boisbriand, Chomeday, Duvernay, Fabreville, Lachine, Laval Rapids, Laval on the Lake, Montreal, Pierrefonds, Viau Bridge, Rosemere, St-Eustache, Ste-Dorothee, Ste-Rose, Ste -Rose: CL, and Vimont.
We also deliver to the following facilities

Alfred Dallaire Yves Group

Alfred Dallarie Memoria

Alphi Residence For People

Guardian Angel Orientation

Apartments On The Shore

Armstrong-Rideau Funeral Home

Blais Real

Cedres

Good Hospitality Center

Ambulatory Hospital Center

Chartwell The Wellesley

Chartwell The residence cores

Chateau Dollard

Chsld Laval

Urgel Bourgie Garden Cemeteries

Health City Of Laval

Funeral complexes

Demeures Ste Croix Inc

Duvernay

Esterel Pointe-Claire

Integraction-Laval Foundation

Etienne Fireplace

Fireplace Vimont Pensn For Persns

Longpre Group

Habitation The Bel Age

Boise Houses

Houses La Roseraie

Board Accommodation

Hospital of the Cite-de-la-Sante

Jewish Hospital of Readaptation

Commemorative Garden Laurentien

Willow Garden

Lakeshore General Hos |

The Funeral Homes

The Funeral Homes Goye

The Manoir Soleil Residences

The Funeral Homes Guay Inc

Magnus Poirier

Cardinal Manor Inc

Chomedey Manor

Manoir De Laval

Ruisseau Manor

Manor Oasis

Manor Marc-Aurele Fortin

Manoir Notre Dame Du Sourire

Manoir St Laurent Inc

St-Martin Manor

Therese Casgrain Manor

Plots Of Happiness

Park Cemetery Maintenance

Fabre Pavilion

Pension Boulay Enr

Selection Network

Residence Begonias

Residence Boyer

Residence Des Aines L'Avant

Residence Du Bonheur

Residence Heritage

Family Residence Caron

Residence funeral Laval

Residence Johanne Methot

Residence L'Eden

Residence L'Espoir

Residence L'Oasis De Laval

Residence Le Renoir

Residence Les Marronniers

Residence Manoir De Casson

Residence Monaco

Residence Quatre Cent Inc

Residence King North

Residence Roquetins

Residence Steger

Rideau Funeral Home

Funeral Services Lacroix

Laval Real Estate Company

Urgel Bourgie

Urgel Bourgie Complex

Sun Heart Villa

Villa of Youth

Villa Les Tilleuls

Villa Ste Rose Inc

Villa Val Des Arbes
Specialty services
We specialize in the following services:
• Large inventory of fresh flowers
• Tropicals
• Plants
• European / dish gardens
• Contemporary and traditional arrangements
• High-style floral arrangements
• Silk arrangements
• Dried floral arrangements
• Weddings
• Funeral designs
• Extensive gift line
• Gourmet and fruit sneakers
• Gift sneakers
• Greeting cards
• Candles

Contact Information
If you have any questions, please contact us by e-mail at [email protected] or call us directly at (800) 689-1597. We're always here to help you and make your flower-sending experience a pleasure.
Delivery Policy
delivery fee will be added to each order, for each address. (For deliveries outside our local delivery area, this fee may vary.)

Orders must be received before 4:00 pm in the container's time zone to ensure same-day delivery. Orders received after that time will be delivered the following day.

We will do our best to make deliveries at specific times of the day, but we can not guarantee it.

Delivery of orders to rural routes or cemeteries can not be guaranteed.

We will be happy to accept your international orders if you call our shop directly. We are unable to accept international orders over the Internet.
.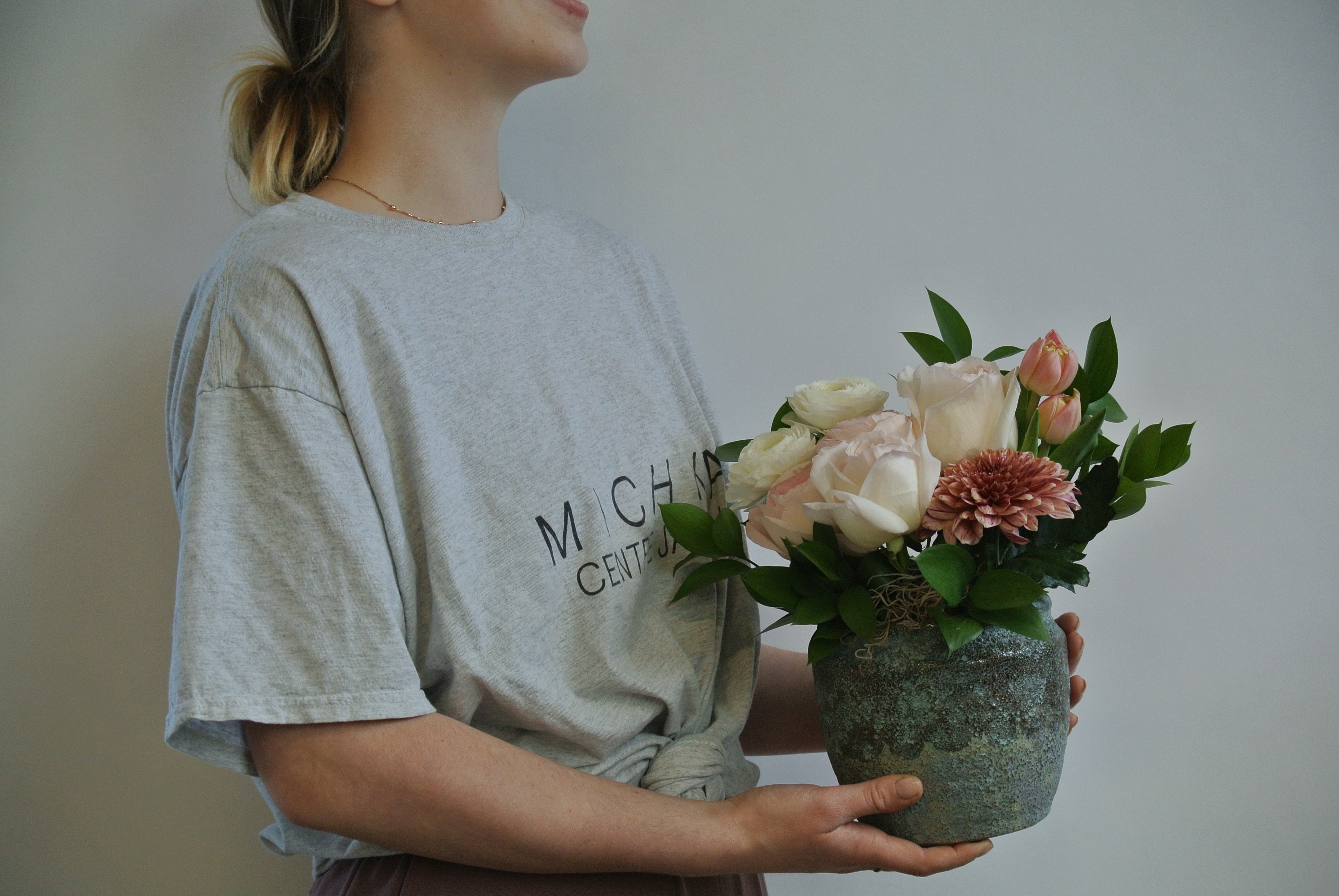 Substitution Policy
Occasionally, substitutions may be necessary to create your bouquet due to the availability of certain flowers in various parts of the country. Care is taken to maintain the style, theme and color scheme of the arrangement, using flowers of equal value. Additionally, the substitution of certain keepsake items may be necessary due to increased demand, especially during major holidays. In single-flower arrangements, such as an all rose bouquet, or orchids, we will make every attempt to match the flower type, but may substitute with another color.